As a game developer, you're probably always looking for ways to show your game to more people. A small fraction of those eyeballs convert to sales. If Steam is distributing any of your games you're likely familiar with Steam's Marketing & Visibility page, accessible after logging into Steamworks and clicking on one of your games. If you're not familiar, go study it.
Steam gives you five Product Update Visibility Rounds during which they will display a link to your store page on their homepage. This link gets displayed 500,000 times each round, and you can start a round any time you make a game update and a related announcement.
I had just posted a free demo of Retrobooster on Steam. It's not exactly a game update, but it was enough for Steam to allow me a round of visibility.
Retrobooster's launch visibility (1,000,000 views) lasted a little over an hour, similar to Burak Tezateser's experience with Monochroma as he describes in Dynamics of Steam as a Sales Platform. I falsely concluded that a round of 500,000 views would last a half hour or a little more.
Retrobooster is an English-only game and has made three quarters of its Steam sales to players in North America and Western Europe, which gives me a decent picture of its current audience. Looking at Steam Download Stats, you can take an educated guess at when to start a visibility round.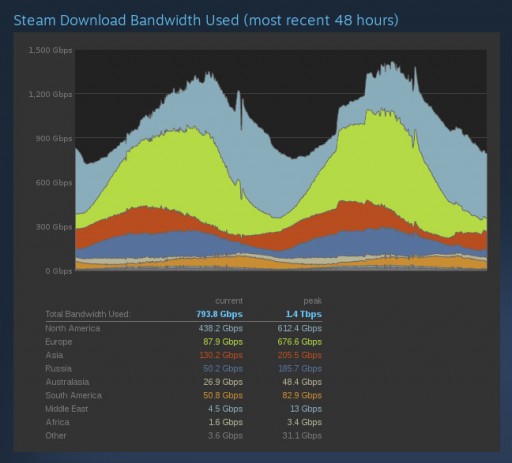 I sampled these charts on a few different days and decided to start my visibility round at 11am. It was over quickly.

But not as quickly as expected. My visibility round of 513,051 views lasted almost two and a half hours. In retrospect, this seems reasonable. Each game gets one shot at launch visibility, but five chances at update visibility. There is an equal number of New on Steam game links and Recently Updated game links on Steam's homepage, so it makes sense for a link to appear in the New on Steam section several times more frequently than in the Recently Updated section. If I start another visibility round I'll aim for about an hour earlier.
Still, the time I chose for the visibility round appears to have worked out well since it resulted in 50% more clicks than the average. It remains to be seen if the Retrobooster demo will help sales. Maybe that's a topic for a future article. I'm interested to hear other developers' experiences with marketing on Steam. Don't hesitate to leave your story in the comments.